3 Types of Face Masks for Every Skin Issue
DISCLAIMER
This blog has not been approved by your local health department and is not intended to provide diagnosis, treatment, or medical advice. Read More

This blog has not been approved by your local health department and is not intended to provide diagnosis, treatment, or medical advice. The content provided on this blog is for informational purposes only. Please consult with a physician or other healthcare professional regarding any medical or health-related diagnosis or treatment options. Information on this blog should not be considered as a substitute for advice from a healthcare professional. The claims made about specific products throughout this blog are not approved to diagnose, treat, cure, or prevent disease.
In this article: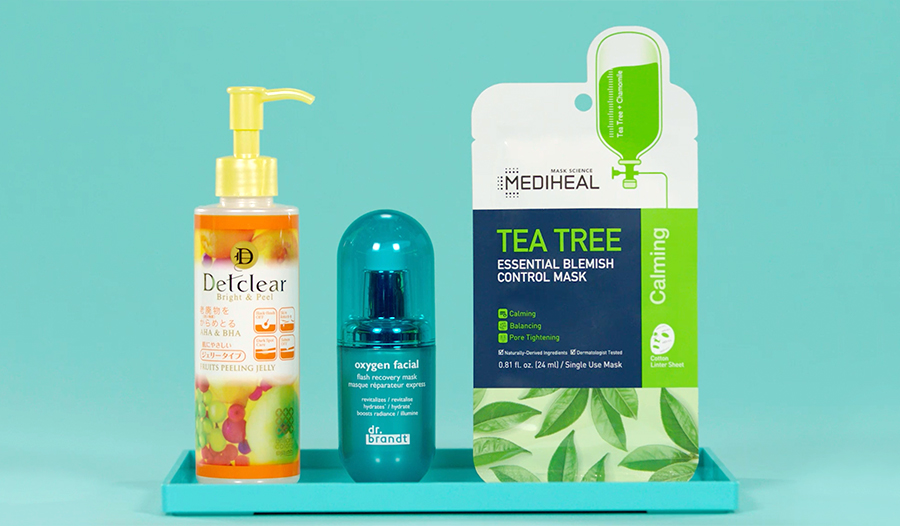 What Are Facial Masks?
Facial masks come in a variety of forms with an even larger list of active ingredients. Each mask typically contains specific active ingredients meant to target problem areas. Most are designed to be used one to three times a week. You can apply them in the morning or evening, depending on your schedule.
What Are the Benefits of Facial Skincare Masks?
There are many benefits to using a facial mask as a part of your skincare routine. With the large variety of formulas available, it is easy to find one for your skin type.
Some masks use oil absorbing ingredients like clays or volcanic ash to treat excessively oily skin while others soothe sensitive skin with green tea, snail mucin or centella asiatica. Finding the right mask depends not only on your personal preferences, like scent and texture, but also on the conditions you wish to treat. These may include age spots, wrinkles, tone, and texture.
Some skincare masks might be able to:
Brighten skin

Reduce fine lines and wrinkles (over time)

Exfoliate dead skin cells

Reduce pore appearance and size

Reduce dark spots and hyperpigmentation

Unclog pores

Reduce acne

Moisturize
What Are Some Active Ingredients in Facial Masks?
The active ingredients of any mask will vary depending on the treatment it provides. For example, kaolin clay has been shown to absorb oil extremely well. That's why it's often found in blemish-control and oil-reducing masks, such as the L'Oreal Pure-Clay Mask in Detox and Brighten.
Healing and moisturizing masks might contain ingredients such as hyaluronic acid, glycerin, and ceramides. Hyaluronic acid and glycerin are both fatty acids that help plump and soften the skin, while ceramides act as a type of adhesive between skin cells. The combination of these ingredients may boost the strength of the structure of the cells. If these are your skin concerns, give the Leaders Mediu Amino Moisture Mask a try.
Ingredients like glycolic acid, lactic acid, and retinol are most often found in exfoliating masks, like the Ren Skincare Glycol Lactic Radiance Renewal Mask. These chemicals help to peel off the outermost layer of skin, unclogging pores and revealing brighter skin below. This may also help to reduce dark spots and allow for new cell growth.
How Should You Prepare to Do a Facial Skincare Mask?
Masks will yield the best results on clean skin. That's why you should use a cleanser on your face before applying a mask, like the Pixi Beauty Rose Cream Cleanser. It is packed with essential ingredients, including rose and avocado, to cleanse without over-drying or irritating the skin.
While cleansing, you can exfoliate if your facial mask does not already offer it, using something like the Etude House My Beauty Tool Exfoliating Jellyfish Silicon Brush. Use the exfoliator by squeezing some cleanser into the hole at the bottom and using the fine silicone bristles to cleanse the face. Remember, prior exfoliation is not necessary if you are using an exfoliation mask. Over-exfoliating can cause skin redness, irritation, and sometimes blemishes.
It is also a good idea to patch test a small area of skin with the mask prior to covering the entire face. This is helpful to ensure you are not allergic to any of the ingredients in the mask. Allergic reactions can include redness, swelling, and itching. If you develop these symptoms, it is wise to check with your physician before using any facial product.
Types of Skincare Masks
Today's skincare masks involve more than simply piling clay on your face and waiting for it to dry. There are dozens of cleaner and easier ways to purify, exfoliate, and moisturize. Some of these include the sheet mask, the oxygen mask, and the peeling mask.
Sheet Masks
Sheet masks took the world by storm a few years ago, thanks to K-Beauty (and J-Beauty). You can find these masks in colorful packaging, with printed designs, in loads of varieties, and most of all, at affordable prices. They look like a piece of paper or cloth with holes cut out for the eyes, nose, and mouth. They can be made with fine cotton fibers, silk, or sometimes gel, and the sheets can deliver their essence by direct contact to the face. Most masks should be worn from 10 to 20 minutes.
The Mediheal Tea Tree Essential Blemish Control Mask is a favorite because it has oil-control capability but remains gentle for sensitive skin. Derived from all-natural ingredients, this mask has pore-tightening, balancing, and calming effects. It uses tea tree oil, chamomile, and centella asiatica extract delivered in a super-soft cotton sheet mask. The mask conforms to the face, and the active ingredients could help to minimize oil, reducing the occurrence of breakouts and blemishes.
To apply the Mediheal Tea Tree Essential Blemish Control Mask to your face, open and remove it from the pouch. It will be moist to the touch and need to be unfolded. Place it gently on your face starting at the forehead and working your way down the face. Be sure to carefully position the open holes around your eyes, nose, and mouth.
You can leave the mask on while you rest, work, or read for up to 20 minutes. The "Mediheal" logo will reveal itself to let you know when it is time to remove your mask. Once removed, simply toss the mask and pat the remaining essence into your skin.
Oxygen Bubble Masks
The Dr. Brandt Oxygen Facial Flash Recovery Mask is an oxygen mask that takes facial masks one step further with its bubbly action. Meant to re-energize and revitalize dull skin, this mask may also hydrate and boost your face's radiance. Additionally, the foaming bubbles add an overall feeling of relaxation to your facial.
We think this product is best applied with a mask brush like the Eco Tools Multi Maskmates Kit. Simply stroke the mask across the face while avoiding close proximity with the eyes. Allow the oxygen bubbles to work their magic for three to five minutes before rinsing the face with warm water. To maintain radiance and moisture retention, follow the Dr. Brandt Oxygen Facial Flash Recovery Mask with the Dr. Brandt Hyaluronic Facial Cream.
Peeling Masks
Detclear Bright and Peel Fruit Peeling Jelly, which is also available in a Berry version, is a peeling mask. It contains both alpha and beta hydroxy acids derived from fruit that may help to exfoliate layers of skin. These water-soluble acids could reduce dark spots, unclog pores, even skin tone, and improve skin texture.
The Detclear Bright and Peel Fruit Peeling Jelly also targets sebum and blackheads. Simply apply a generous portion of the jelly-like mask onto the face and rub it in with circular motions. Continue until the entire face is covered, carefully avoiding the eye area. As you rub in circular motions, you will feel little balls of the jelly rolling off, along with your dead skin. You can then rinse the face with warm water and follow up with a moisturizer.
The Best Facial Skincare Mask
The best skincare mask is the one that works for you and your specific skincare needs. Whether you need to refresh and invigorate your skin after a long week at work, or rid your skin of excess oil, facial masks, along with your regular skincare routine, can help give your skin the boost it needs.