Pros and Cons of Natural Deodorants
DISCLAIMER
This blog has not been approved by your local health department and is not intended to provide diagnosis, treatment, or medical advice. Read More

This blog has not been approved by your local health department and is not intended to provide diagnosis, treatment, or medical advice. The content provided on this blog is for informational purposes only. Please consult with a physician or other healthcare professional regarding any medical or health-related diagnosis or treatment options. Information on this blog should not be considered as a substitute for advice from a healthcare professional. The claims made about specific products throughout this blog are not approved to diagnose, treat, cure, or prevent disease.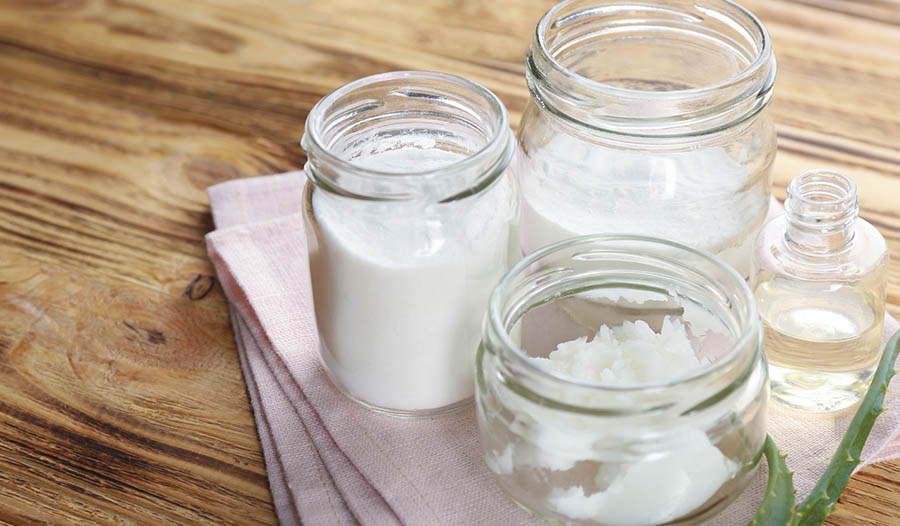 Natural deodorants have become popular in recent years. Many people are concerned with the chemicals and the potentially harmful effects of traditional deodorants. Traditional deodorants, including deodorant and antiperspirant combos, often have ingredients such as aluminum that have been tentatively linked to different medical problems. There is not yet a great deal of information about the potential negative health effects of traditional deodorants, but it has prompted individuals concerned about their health to look for alternative deodorants. Thankfully, there are many options. These include crystals, powders, creams and more. This article will provide an overview of deodorant alternatives and the pros and cons of each.
Crystal Deodorant Stone Alternative Deodorant
Crystal deodorants are possibly the most popular deodorant alternative. Most people who decide to check out alternative deodorants check out crystals first. However, it is important to note that crystal deodorants must be used quite differently than traditional stick deodorants. They are quite literally made out of crystals, so they can abrade the skin if applied incorrectly. It is important to keep in mind that crystal deodorants need to be somewhat damp to work properly. They do not need to be soaking wet, but they need to be damp so that they will slide along the skin of the underarms smoothly. Many people like to use this type in the shower or immediately after getting out of the shower.
There are many pros of crystal deodorants, including no allergic reactions and no scents. They don't dry out skin, they are cheap and long-lasting, and they are widely available. They are the most popular alternative to stick deodorants.
The main con of crystal deodorant is that it can be challenging to figure out how to use comfortably at first. People with very sensitive underarm skin may find it somewhat irritating even after learning how to apply it properly. Also, crystal deodorants do not have any scent that could potentially help cover up body odor.
Crystal Deodorant Spray
For those who would like crystal deodorant but want an alternative that is easier to apply, crystal deodorant spray may be the right option. Like crystal stones and sticks, look for sprays that do not contain potentially harmful chemicals such as aluminum derivatives. Crystal sprays can be hypoallergenic and fragrance-free to reduce potential skin irritation. Like the stick, this deodorant must be applied to clean skin. Once this is completed, the natural minerals in the spray will take effect and reduce odor and perspiration naturally. As with the stick, the spray has certain pros and cons that people looking into alternative deodorants should take into account.
The main pros include the ease of application, the small risk of skin irritation and the lack of nasty chemicals.
The main con is that there is no fragrance that could help cover up severe body odor.
Natural Deodorant Cream
Many people might not have heard of deodorant cream before. However, it does offer distinct advantages compared to other deodorant alternatives and traditional deodorants. As might be expected, it does not have any aluminum or aluminum-derived chemicals like traditional deodorant options. Most don't even have any alcohol, which many deodorant alternatives still have. This reduces the likelihood of skin being irritated from using this deodorant option. Another interesting aspect of deodorant cream is that it may have the ability to keep away odor for up to a week. Of course, the results will vary from person to person. Someone who naturally has more body odor may not see the full seven-day relief.
Look for a deodorant cream that is paraben-free. Again, many deodorant alternatives will use parabens even though they have been shown to potentially cause negative effects. Another advantage of the deodorant cream is that there's no need to reapply it. Even after going to the gym or taking a shower, deodorant cream is highly water-resistant.
The main con of deodorant cream is that it can be a little uncomfortable to apply for people who are not used to the unique application method. Most deodorants are sticks or sprays, so a cream may take a little getting used to. Another con is that cream, while not containing alcohol or aluminum, may have several artificial chemicals and might not be completely organic.
It is important to learn about the unique ingredient list for deodorant cream. The most important ingredient is castor oil. Another important ingredient, which gives this product is creamy texture, is carnauba wax. The combination of the wax and talc helps the cream apply smoothly. Some of the other important natural ingredients include potato starch, milk protein, chamomile, soybean oil and calendula flower extract. Creams also typically include arnica flower extract.
Natural Deodorant Powder
All-natural deodorant powder is another popular alternative to traditional deodorants. Deodorant powder is very simple and often doesn't include any of the potentially harmful chemicals often seen in traditional deodorants. Deodorant power is based on a very simple blend of baking soda and cornstarch. This blend will help it absorb both odor and sweat. Some brands add a gentle floral scent with natural essential oils. This fragrance will help cover up scent without the potential of skin irritation.
Natural Homemade Alternative Deodorants
While all of the products mentioned in this list primarily use natural and organic ingredients, they are not natural enough for some people. Individuals may choose to make the transition from traditional deodorant to natural alternatives via homemade products. There are many different natural substances that can serve as homemade deodorants. The two listed below are easy to make. Homemade deodorants always use all-natural ingredients instead of harmful chemicals. They are also often quite a bit cheaper than natural deodorant alternatives.
Coconut Oil-Based Homemade Deodorant
Ingredients:
Instructions:
Mix the arrowroot or cornstarch and the baking soda in a large bowl.

Use a fork to whip together the baking soda, arrowroot or cornstarch, and coconut oil until it's mixed together thoroughly.

Add essential oils, if desired, for a natural and hypoallergenic fragrance.

Store the mixture in an old deodorant container or a small jar.
The main advantage of this option is that the coconut oil and baking soda mix will be gentle yet effective for both perspiration and odor. The main con is that some people may have a negative reaction to the baking soda. Negative reactions are rare, and many people find that the right solutions involve reducing the amount of baking soda in a recipe.
Shea Butter and Coconut Oil-Based Homemade Deodorant
Ingredients:
Instructions:
Melt the shea butter and coconut oil together over medium heat.

Take the shea butter and coconut oil off the burner when just barely melted.

Mix in the baking soda and arrowroot or cornstarch until it is thoroughly blended.

If desired, mix in the essential oils. It is personal preference whether essential oils are used and how much. The more essential oils are used, the stronger the fragrance.

Put the mixture in an old deodorant stick or small glass jar for storage.
The main pro that this option has over any other options on this list is that the shea butter will moisturize and protect skin. The main con is that the shea butter can be expensive, so it is a pricier option for natural deodorant.
Final Thoughts on Alternative Deodorants
Natural and homemade deodorant alternatives can reduce exposure to harmful chemicals and save money. People who like making their own products at home may enjoy the process of producing homemade deodorant alternatives. Different people have different results with each of these alternative deodorant options, so the best approach is to try each alternative deodorant option for a week or so and see if it works. Note that not all of the alternative deodorants mentioned here have antiperspirant properties.