3 Impressive Brain Health Benefits of Turmeric
DISCLAIMER
This blog does not intend to provide diagnosis... Read More

This blog does not intend to provide diagnosis, treatment, or medical advice. Read more. The content provided on this blog is for informational purposes only. Please consult with a physician or other healthcare professional regarding any medical or health-related diagnosis or treatment options. Information on this blog should not be considered as a substitute for advice from a healthcare professional. The claims made about specific products throughout this blog are not approved to diagnose, treat, cure, or prevent disease.
In this article: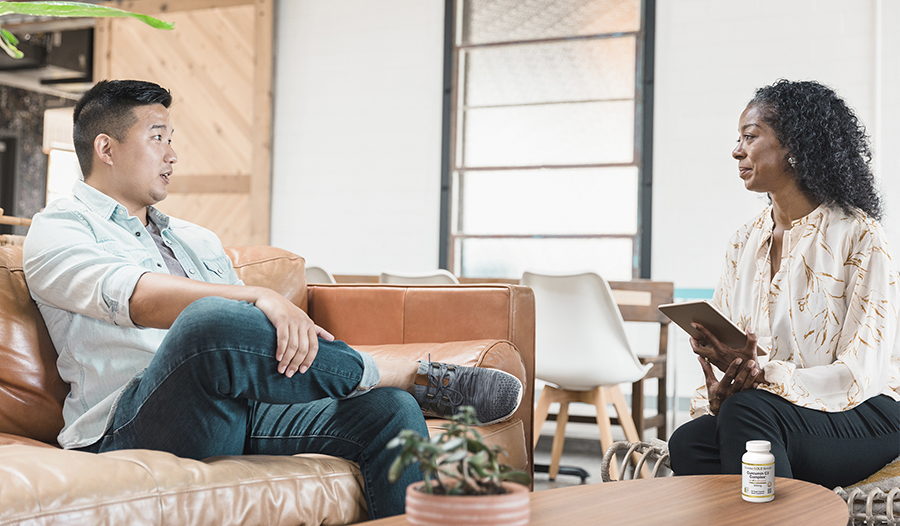 Curcumin is a bright orange-yellow compound found in turmeric, which provides the distinctive color to curry (and often added to yellow mustard as well). Used medicinally for thousands of years, turmeric is a revered herb in Ayurvedic medicine. While typically thought of as an anti-inflammatory to help with pain and inflammation, curcumin is starting to show significant potential for improving aspects of brain health. Recent clinical trials suggest that curcumin may be helpful for depression, anxiety, and schizophrenia.
Structurally, curcumin is known as a "polyphenol." Polyphenols are widely distributed in nature, found in many different plants. Beyond curcumin, several flavonoid-rich herbs are also being studied for their potential brain health benefits, including green tea, grape seed, and pine bark extracts. In general, polyphenols like curcumin are strong antioxidants, which likely plays into their health-promoting effects.
1. Curcumin and Depression
Depression can be challenging to treat with only around 50% of patients responding to standard medications. Even patients that do respond often only improve partially with significant residual symptoms. Alternative treatments, especially with a strong safety profile, are needed for the multitude of patients that don't respond well to standard therapies.
While some other natural treatments for depression hold promise, including Saint John's wort and saffron, the latest research on curcumin strongly suggests the potential for helping with depression and low mood as well. Interest in curcumin as a treatment for depression has been growing as animal models have suggested multiple effects, including the normalization of the stress response, anti-inflammatory effects, and improvements in neurotransmitter function, including serotonin.
Clinical trials on curcumin for depression have only taken place over the last 10 years, with trials starting in 2013. The first clinical trial used a fairly low dose of curcumin combined with black pepper extract to enhance absorption. Patients were prescribed a standard medication combined with curcumin or placebo for five weeks. While the results were not significant, they did find trends towards faster relief with curcumin than without.
Further studies explored different formulations of curcumin with different dosage ranges. A recent meta-analysis combined the results from nine different clinical trials and concluded that curcumin improves depression symptoms. They even found that the effect size was large, suggesting robust anti-depressant effects. However, it is worth noting that other reviews have questioned the quality of the evidence, stating that more research is needed to fully understand the actual benefits.
2. Curcumin and Anxiety
While several natural treatments are starting to show promise for anxiety, including passionflower, lemon balm, ashwagandha, and kava, clinical trials with curcumin have also been promising. Since a lot of patients with depression also struggle with anxiety, many of the clinical trials for curcumin evaluated both depression and anxiety symptoms combined.
While not all of the trials found anti-anxiety effects, the majority did. Some of the most recent reviews have concluded that curcumin is helpful for both depression and anxiety.
3. Curcumin and Alzheimer's Disease
The most common type of dementia is Alzheimer's disease. The condition has an extremely slow onset, likely developing over 10–20 years as damage to the brain accumulates. Initial symptoms include problems with memory, but as the condition progresses, it can be devastating, with patients unable to care for themselves and not recognizing friends or family members.
The main current treatments for Alzheimer's disease may improve function modestly; however, they don't slow the progression of the underlying disease process. With the world facing an epidemic of dementia patients, now, more than ever, we need better tools for prevention and treatment.
Like other conditions, some preliminary clinical research suggests benefits from a number of natural approaches, including fish oil, citicoline, acetyl-L-carnitine, and others. Among the natural treatments, curcumin also appears to hold some promise.
Blood sugar problems and diabetes are strongly linked to Alzheimer's. The connection is so strong that Alzheimer's disease has been described as diabetes type 3. Curcumin has shown benefits for controlling blood sugar, one of the driving factors causing the condition.
In addition, Alzheimer's disease has characteristic brain damage that occurs over many years, including amyloid plaques and tau tangles. Curcumin, at least in animal models, has been shown to inhibit the formation of amyloid plaques and decrease the levels of those already formed. If these effects hold in humans, and they appear to, curcumin may have a place as both a preventative and a treatment.
Human Trials of Curcumin and Dementia
Human trials are few at this point, but they show promise. One study compared curcumin to a placebo in older adults. Over one year, the participants on curcumin had stable cognitive function, while those on placebo showed significant declines.
Probably the most impressive study was a trial of a bioavailable form of curcumin (Theracurmin) in older individuals without dementia. Over 18 months, memory and attention improved in subjects taking curcumin. Additionally, imaging showed that both amyloid plaques and tau tangles decreased over the course of the study. The data suggests the preventative potential of curcumin for cognitive decline and dementia.
While not all human trials have found benefits with curcumin, dosing regimens and the form of curcumin utilized have varied significantly between studies. It is also possible that curcumin works better as an early intervention rather than as a treatment for patients already diagnosed with more significant memory problems.
Safety of Curcumin
Curcumin has been shown to be quite safe and is usually well-tolerated in clinical trials. However, two concerns are worth highlighting. First, there are a few reports of autoimmune liver toxicity induced by curcumin, with one report being well documented. When curcumin was discontinued, the patient recovered. With how much curcumin is utilized as a supplement, and with numerous human clinical studies showing only benefits to the liver, even in liver disease, the risks for liver toxicity due to curcumin are likely rare, but still worth recognizing. If a person develops symptoms of liver disease, including nausea, itching, and yellowed eyes or skin while taking curcumin, they should seek medical care and discontinue the supplement.
It's possible that the reason for the recent cases of liver inflammation with curcumin may be due to products containing piperine as noted in the evaluation of these case reports. The second concern regarding safety with curcumin is it is also possible that some curcumin products may contain residual solvents, heavy metals, or other adulterants that can damage the liver. Another potential issue is that synthetic versions of curcumin that are about 1/5th the price of natural curcumin have also entered the marketplace. These potential problems with quality control in curcumin products on the marketplace highlights the importance of purchasing curcumin from reputable suppliers that can verify their product is derived from natural sources and is free of contaminants—although to be clear, this safeguard still may not completely eliminate the risk for liver toxicity in rare circumstances.
Bioavailability
Curcumin is not water-soluble and is typically very poorly absorbed from the digestive tract. As such, many supplements are will have some method for increasing absorption. Black pepper extract (piperine), nanoparticle versions, and emulsified products are often utilized to improve bioavailability. Generally, it's recommended to use products that have been shown to have enhanced absorption and clinical studies to support an advantage.
Conclusion
Curcumin is an exciting herbal product that appears to hold vast potential for supporting brain health. From potentially helping with depression, anxiety, to possibly helping to prevent some of the most dreaded brain diseases associated with aging, curcumin holds significant promise. As more clinical research is performed, we can develop a better understanding of the best ways to utilize curcumin to support brain health.
References:
Berry A, Collacchi B, Masella R, Varì R, Cirulli F. Curcuma Longa, the "Golden Spice" to Counteract Neuroinflammaging and Cognitive Decline-What Have We Learned and What Needs to Be Done. Nutrients. 2021;13(5):1519. Published 2021 Apr 30. doi:10.3390/nu13051519

de la Monte SM, Wands JR. Alzheimer's disease is type 3 diabetes-evidence reviewed. J Diabetes Sci Technol. 2008;2(6):1101-1113. doi:10.1177/193229680800200619

Fusar-Poli L, Vozza L, Gabbiadini A, et al. Curcumin for depression: a meta-analysis. Crit Rev Food Sci Nutr. 2020;60(15):2643-2653. doi:10.1080/10408398.2019.1653260

Gagliardi S, Morasso C, Stivaktakis P, et al. Curcumin Formulations and Trials: What's New in Neurological Diseases. Molecules. 2020;25(22):5389. Published 2020 Nov 18. doi:10.3390/molecules25225389

Gareri P, Castagna A, Cotroneo AM, Putignano S, De Sarro G, Bruni AC. The role of citicoline in cognitive impairment: pharmacological characteristics, possible advantages, and doubts for an old drug with new perspectives [published correction appears in Clin Interv Aging. 2015;10:1625]. Clin Interv Aging. 2015;10:1421-1429. Published 2015 Sep 3. doi:10.2147/CIA.S87886

Ghazizadeh J, Sadigh-Eteghad S, Marx W, et al. The effects of lemon balm (Melissa officinalis L.) on depression and anxiety in clinical trials: A systematic review and meta-analysis. Phytother Res. 2021;35(12):6690-6705. doi:10.1002/ptr.7252

Hoenders R, Bartels-Velthuis A, Vollbehr N, Bruggeman R, Knechtering R, Jong J. Natural Medicines in Schizophrenia: A Systematic Review. J Altern Complement Med. 2014;20(5):A79.

Hosseininasab M, Zarghami M, Mazhari S, et al. Nanocurcumin as an Add-on to Antipsychotic Drugs for Treatment of Negative Symptoms in Patients With Chronic Schizophrenia: A Randomized, Double-Blind, Placebo-Controlled Study. J Clin Psychopharmacol. 2021;41(1):25-30. doi:10.1097/JCP.0000000000001324

Jakobsen JC, Katakam KK, Schou A, et al. Selective serotonin reuptake inhibitors versus placebo in patients with major depressive disorder. A systematic review with meta-analysis and trial sequential analysis [published correction appears in BMC Psychiatry. 2017 May 3;17 (1):162]. BMC Psychiatry. 2017;17(1):58.

Janda K, Wojtkowska K, Jakubczyk K, Antoniewicz J, Skonieczna-Żydecka K. Passiflora incarnata in Neuropsychiatric Disorders-A Systematic Review. Nutrients. 2020;12(12):3894. Published 2020 Dec 19. doi:10.3390/nu12123894

Kaufmann FN, Gazal M, Bastos CR, Kaster MP, Ghisleni G. Curcumin in depressive disorders: An overview of potential mechanisms, preclinical and clinical findings. Eur J Pharmacol. 2016;784:192-198. doi:10.1016/j.ejphar.2016.05.026

Kucukgoncu S, Guloksuz S, Tek C. Effects of Curcumin on Cognitive Functioning and Inflammatory State in Schizophrenia: A Double-Blind, Placebo-Controlled Pilot Trial. J Clin Psychopharmacol. 2019;39(2):182-184. doi:10.1097/JCP.0000000000001012

Lee BS, Bhatia T, Chaya CT, Wen R, Taira MT, Lim BS. Autoimmune Hepatitis Associated With Turmeric Consumption. ACG Case Rep J. 2020;7(3):e00320. Published 2020 Mar 16. doi:10.14309/crj.0000000000000320

Lopresti AL. Curcumin for neuropsychiatric disorders: a review of in vitro, animal and human studies. J Psychopharmacol. 2017;31(3):287-302. doi:10.1177/0269881116686883

Luber RP, Rentsch C, Lontos S, et al. Turmeric Induced Liver Injury: A Report of Two Cases. Case Reports Hepatol. 2019;2019:6741213. Published 2019 Apr 28. doi:10.1155/2019/6741213

Matias JN, Achete G, Campanari GSDS, et al. A systematic review of the antidepressant effects of curcumin: Beyond monoamines theory. Aust N Z J Psychiatry. 2021;55(5):451-462. doi:10.1177/0004867421998795

Miodownik C, Lerner V, Kudkaeva N, et al. Curcumin as Add-On to Antipsychotic Treatment in Patients With Chronic Schizophrenia: A Randomized, Double-Blind, Placebo-Controlled Study. Clin Neuropharmacol. 2019;42(4):117-122. doi:10.1097/WNF.0000000000000344

Ng QX, Venkatanarayanan N, Ho CY. Clinical use of Hypericum perforatum (St John's wort) in depression: A meta-analysis. J Affect Disord. 2017;210:211-221. doi:10.1016/j.jad.2016.12.048

No authors listed. Acetyl-L-carnitine. Monograph. Altern Med Rev. 2010;15(1):76-83.

Pratte MA, Nanavati KB, Young V, Morley CP. An alternative treatment for anxiety: a systematic review of human trial results reported for the Ayurvedic herb ashwagandha (Withania somnifera). J Altern Complement Med. 2014;20(12):901-908. doi:10.1089/acm.2014.0177

Rainey-Smith SR, Brown BM, Sohrabi HR, et al. Curcumin and cognition: a randomised, placebo-controlled, double-blind study of community-dwelling older adults. Br J Nutr. 2016;115(12):2106-2113. doi:10.1017/S0007114516001203

Ramaholimihaso T, Bouazzaoui F, Kaladjian A. Curcumin in Depression: Potential Mechanisms of Action and Current Evidence-A Narrative Review. Front Psychiatry. 2020;11:572533. Published 2020 Nov 27. doi:10.3389/fpsyt.2020.572533

Sarris J, Panossian A, Schweitzer I, Stough C, Scholey A. Herbal medicine for depression, anxiety and insomnia: a review of psychopharmacology and clinical evidence. Eur Neuropsychopharmacol. 2011;21(12):841-860. doi:10.1016/j.euroneuro.2011.04.002

Small GW, Siddarth P, Li Z, et al. Memory and Brain Amyloid and Tau Effects of a Bioavailable Form of Curcumin in Non-Demented Adults: A Double-Blind, Placebo-Controlled 18-Month Trial. Am J Geriatr Psychiatry. 2018;26(3):266-277. doi:10.1016/j.jagp.2017.10.010

Stati G, Rossi F, Sancilio S, Basile M, Di Pietro R.

Curcuma longa

Hepatotoxicity: A Baseless Accusation. Cases Assessed for Causality Using RUCAM Method.

Front Pharmacol

. 2021;12:780330.

Thota RN, Rosato JI, Dias CB, Burrows TL, Martins RN, Garg ML. Dietary Supplementation with Curcumin Reduce Circulating Levels of Glycogen Synthase Kinase-3β and Islet Amyloid Polypeptide in Adults with High Risk of Type 2 Diabetes and Alzheimer's Disease. Nutrients. 2020;12(4):1032. Published 2020 Apr 9. doi:10.3390/nu12041032

Tóth B, Hegyi P, Lantos T, et al. The Efficacy of Saffron in the Treatment of Mild to Moderate Depression: A Meta-analysis. Planta Med. 2019;85(1):24-31. doi:10.1055/a-0660-9565

Wang Z, Zhang Q, Huang H, Liu Z. The efficacy and acceptability of curcumin for the treatment of depression or depressive symptoms: A systematic review and meta-analysis [published correction appears in J Affect Disord. 2021 Apr 6;:]. J Affect Disord. 2021;282:242-251. doi:10.1016/j.jad.2020.12.158

Yang F, Lim GP, Begum AN, et al. Curcumin inhibits formation of amyloid beta oligomers and fibrils, binds plaques, and reduces amyloid in vivo. J Biol Chem. 2005;280(7):5892-5901. doi:10.1074/jbc.M404751200

You H, Gershon H, Goren F, Xue F, Kantowski T, Monheit L. Analytical strategies to determine the labelling accuracy and economically-motivated adulteration of "natural" dietary supplements in the marketplace: Turmeric case study. Food Chem. 2022;370:131007. doi:10.1016/j.foodchem.2021.131007

Zhu RZ, Chen MQ, Zhang ZW, Wu TY, Zhao WH. Dietary fatty acids and risk for Alzheimer's disease, dementia, and mild cognitive impairment: A prospective cohort meta-analysis. Nutrition. 2021;90:111355. doi:10.1016/j.nut.2021.111355