Enhance Complexion With 5 Homemade Rose Skin Care Treatments
DISCLAIMER
This blog has not been approved by your local health department and is not intended to provide diagnosis, treatment, or medical advice. Read More

This blog has not been approved by your local health department and is not intended to provide diagnosis, treatment, or medical advice. The content provided on this blog is for informational purposes only. Please consult with a physician or other healthcare professional regarding any medical or health-related diagnosis or treatment options. Information on this blog should not be considered as a substitute for advice from a healthcare professional. The claims made about specific products throughout this blog are not approved to diagnose, treat, cure, or prevent disease.
In this article: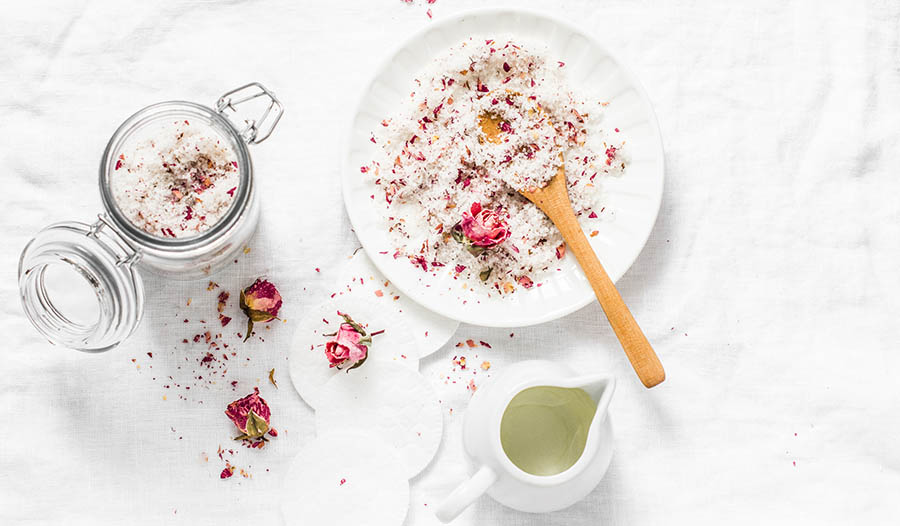 Roses offer much more than a romantic gesture, they're also a mainstay of beauty regimens. Crafting homemade rosewater skin care products is a simple, easy way to improve the health of the skin. DIY options range from simple rosewater toner to fragrant rose-scented lotion bars.
The Skin Care Benefits of Rosewater
Rosewater offers a wide range of health benefits, making it ideal to include in a skin care regimen.
Anti-Inflammatory Properties for the Face and Skin
Rosewater has anti-inflammatory properties. It can help to calm and soothe the skin, which makes it a potent ingredient for people with acne and rosacea. These anti-inflammatory properties can also provide relief to skin irritated by harsh skin care products, like retinol and chemical exfoliants.
Homemade Antioxidant Benefits
Rosewater contains potent antioxidants, such as vitamins A and C. These antioxidants can help to banish free radicals, which speed the aging process and to repair damaged skin.
Antibacterial Properties of Rose Skin Care
The anti-inflammatory effects aren't the only reason why people with acne-prone skin should reach for rosewater. It also has antibacterial and antimicrobial properties, which means it can target the pore-clogging bacteria that causes acne in the first place. Because it's very gentle, it helps to get rid of bacteria without over-drying the skin, like many popular acne-fighting ingredients.
Hydrate Parched, Tired Skin
Rosewater also helps to hydrate the skin, which makes it a must-have ingredient for people with dry or combination complexions.
Homemade Rose Skin Care Treatments
To infuse daily beauty routines with the power of roses, try one of these great DIY recipes.
Homemade Rosehip Seed Oil Anti-Aging Face Cream
This anti-aging face cream helps to hydrate dry, tired skin. It may also help to diminish the appearance of sun damage and fine lines and wrinkles.
Ingredients:
Instructions:
Start by infusing the aloe with rose petals. Combine equal amounts of aloe and petals in a food processor. Continue until the mixture is frothy and fully blended, and then run it through a strainer to remove leftover petal pieces. Place the mixture in the refrigerator for now.

Using a heat-proof container, combine the stearic acid, shea butter and jojoba oil. Fill a saucepan with a few inches of water, and then place the container in the water. Set the stove on medium heat and keep the mixture surrounded by water until it melts.

Transfer the mixture into a mixing bowl. While it is still warm, add the rosehip seed oil and stir. Then, allow it to cool until it reaches room temperature.

Add the rose petal-infused aloe and rose essential oil to the mixture. Stir thoroughly. For a creamier texture, try using a hand mixer.

When the cream is ready to use, gently apply it to the face and neck. Pat the cream into the skin with the fingertips to ensure maximum absorption.

Transfer the cream into jars or bottles. Store in a refrigerator for best results.
Homemade Rose Body Scrub
Body scrubs help to exfoliate tired, dull skin. Thanks to the addition of rose oil and coconut oil, this scrub helps to hydrate the skin as well, which makes it suitable for sensitive and aging skin types.
Ingredients:
Instructions:
In a mixing bowl, combine the sea salt and coconut oil.

When they're mixed thoroughly, add four drops of fragrant, hydrating rose oil and stir.

To use, apply the scrub to areas of the body in need of exfoliation, like the legs, arms, hands and feet.

When the skin is fully exfoliated, gently rinse the scrub with warm water and a washcloth.

To store the scrub, transfer it to an airtight container and keep it refrigerated.
Homemade Blemish-Blasting Rose Face Mask
The antibacterial and anti-inflammatory properties of rosewater can help to reduce the appearance of blemishes. This paste-like mask is ideal for people with oily and acne-prone skin.
Ingredients:
Instructions:
Place the petals in a bowl and grind them into a powder using a pestle.

Mix the mashed petals with the sandalwood powder.

Add the honey and rosewater, and continue mixing until it has a paste-like consistency. If it is too runny or too thick, add a dash of sandalwood powder or rosewater until it achieves the desired texture.

Spread the mask onto the face and any other acne-prone areas.

Leave it on for 10 to 15 minutes.

Rinse the mask off with warm water.
Homemade Rosewater Lotion Bar for the Skin
For the DIY aficionado, lotion bars are a must-try project. These handmade bars are hydrating, convenient and easy to make. They have a longer shelf life than most homemade beauty products, and they can be made in large quantities, which makes them cost-friendly. Once made, these bars resemble soap, but they have a much different purpose. They contain moisturizing ingredients that start to melt when they come into contact with body heat. Simply rub the bar over dry skin, and the area is instantly infused with hydrating ingredients. To ensure that lotion bars smell and feel great, add a dash of rosewater.
Ingredients:
Instructions:
As with the recipe for the anti-aging face cream, create a makeshift double boiler by placing a heat-proof container in a saucepan filled with a few inches of water. Set the stove to medium heat.

When the surrounding water begins to gently boil, add the shea butter, almond meal and cocoa butter to the heat-proof container. As the ingredients begin to melt, stir them together with a small wooden spoon.

Remove the container from the stove.

While the mixture is still warm, add the teaspoon of rosewater and stir.

Once all the ingredients are combined, it's time to pour the mixture into a mold. DIYers can buy an actual soap bar mold, or they can choose to set the lotion bars in unconventional molds. Ice cube trays, for example, are perfect for making small lotion bars. Pouring the mixture in muffin tins will result in larger, round bars. DIYers can even pour the mixture onto a normal pan greased with cooking oil. Once it hardens, it's easy to cut the lotion bars into a variety of sizes and shapes.

Once the rosewater lotion has been poured into the mold, give it time to cool. To speed up the process, place the mold in the refrigerator.

Once the lotion has hardened, remove it from the mold and enjoy!
Homemade Rosewater Toner
Making homemade rosewater toner is simple, and it's sure to become an essential component of any beauty regimen. Follow these steps to create a refreshing, hydrating facial spray that's sure to add radiance to the complexion.
Ingredients:
Instructions:
Gently rinse the petals to remove any residue or dirt.

Arrange the petals in a small pot. Coat them with a thin layer of distilled water. If too much water is added, the rosewater may not be strong enough.

Place a lid on the pot and set the stove heat to its lowest setting.

Every so often, take a look at the simmering petals. Remove the pot from the stove when the water has leached the color from the petals.

Run the mixture through a strainer to get rid of the petal remnants.

Add the witch hazel to the rosewater and stir to combine.

Pour the rosewater toner into a spray bottle.

To refresh the skin, simply spritz it with the toner. Wipe away any excess toner with a cotton ball.

To boost its soothing, anti-inflammatory qualities, store the spray bottle in the refrigerator.